Clare Murray Adams
Balancing Act
5/25/2023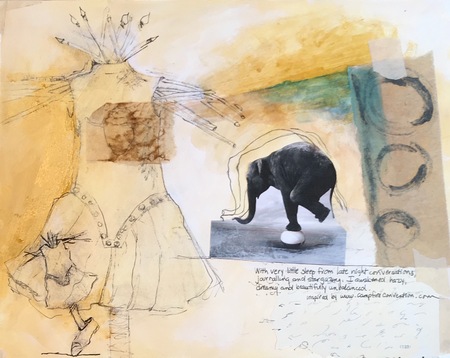 "Finding a Balance" ( Detail of a larger artwork)

mixed media collage on paper





Do you ever find it difficult to get everything done or find time to do all that you want to do?




I do and I find it so true at the change of seasons, especially the change from spring into summer.




I have all of this studio work that I want to do. Projects that are partially done, others that are barely started or ones that are almost complete. And of course there are all of the ones in my head!




But now it is summer and I want to get the garden going and add to the perennial flower beds.




Not to mention weeding and mowing.




And what about family and friends or time to go on a vacation?




Isn't summer about vacation and relaxing?





So you can see that finding the balance between all of these activities can be difficult. At least it is of me.

It is as if I am constantly juggling, well, life.




Sometimes I just need to slow down.

Prioritize.




Take something out of the equation. (Probably something like cleaning will have to go!)




Look at gardening as a creative activity, an art project for the summer, which I truly believe it is.




Make small rather than large artworks in order to feel that sense of accomplishment in the studio.





I really don't want to give anything up.

I think that is the problem.




So...one day at a time.




Today it is a bit of weeding and finishing the prep for my workshop next week at the Quilt Surface Design Symposium in Columbus where I wll be teaching a mixed media collage class.



Want some collage and mixed media inspiration similar to what I will be teaching in my class? Just click here.
Until next time, keep mixing it up!

-Clare

www.claremurrayadams.com
http://instagram.com/claremurrayadams
---
Working with New Media
4/10/2023
Exploring New Media and Materials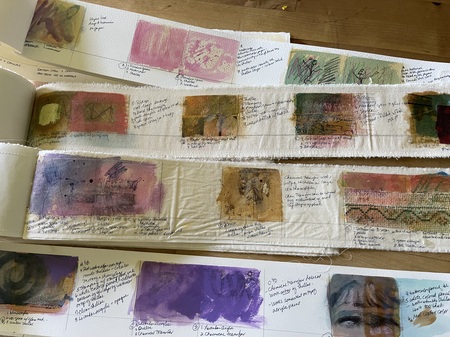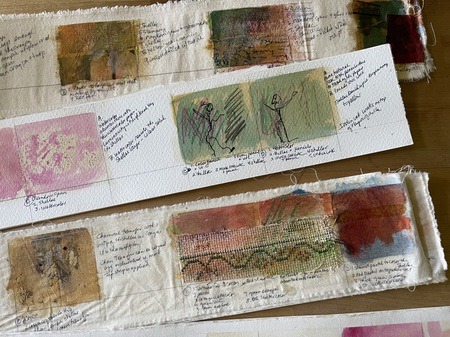 I bet you have some products on your studio shelf that you bought but haven't yet used. I have accumulated some supplies that I thought I needed right NOW but by the time I got them or Amazon delivered them I was on to something else.
So I set aside some time to experiment with these
materials on small panels taking notes as I went along so I could record the results. Some of the media was familiar and some was new. I was primarily interested in seeing how the same mediums reacted on both paper and canvas, as well as ways to create transparency and texture.
These are some of the substances I worked with:
white and black gesso, mat medium, gloss medium, glazing medium, modelling paste, shellac.
The mixed media I included were:
watercolor, acrylic, colored pencils, watercolor pencils, oil pastels, ink, coffee,
chalk pastels.
The techniques I tried included:
painting, drawing,transfers, collage, stamping.
My aim was to create layers and transparency, find the mediums that would create
texture or be thick enough to incise, and to see how these things worked with both paper and fabric collage.
The long strips in the images above are the format for my experiments and note taking. I tried each "test" on fabric (muslin and canvas) and paper (watercolor and printing paper), so I had four strips that I worked on simulaneously. I took notes on what I was doing in each one of the test squares. It turned out to be so fun and I learned a lot about the substances I worked with.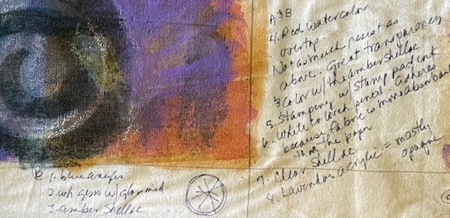 This is an example of a one of the tests with its notes.
In the notes I was able to document that their was great transparency and color with the amber shellac and the lavendar paint was thick enough to be opaque.
I find myself returning to these samples all the time in order to recreate a certain technique or for inspiration for a new project.
Give this kind of experimenting a try! Or if you'd like some guidance join me at the
Red Thread Retreat
for a 3 day class August 3-7 where you can try a variety of mediums that we will have on hand. You can even bring those things sitting in your studio that you have been meaning to try out!
I am also teaching at the
Quilt Surface Design Symposium
in Columbus OH May 29-June 4. This class is called "Collage with Stitch" where we will explore the similarities between collage and applique, working on both paper and fabric.There is a 5 day and a 2 day class available. Just click
here
for details.
Until next month, keep mixing it up!
Clare
http://www.claremurrayadams.com
http://www.instagram.com/claremurrayadams
---
Do You Document Your Work with Photos?
3/11/2023




"The Reading Hour" 2023

I have started documenting my work more often with photos as I go.
It can be quite surprising and informative.

Here is a recent mixed media painting that went through several stages.
It is on paper that measures 30 x22" which is large for me.

I started with an older painting that I sanded down which gave me an interesting surface and took away that "blank canvas" trauma that I sometimes get with a plain white piece of paper or canvas.
(More about avoiding "blank canvas trauma" some other time !)

I knew I wanted to do a Big Chair painting. It is a chair that I photographed and have used in collages and other artwork off and on for maybe 25 years. I like this chair so I wanted it to be upfront and center.

If you look at the images and pick one particular area to follow you will see how changes happen relative to everything else. Sometimes I just have to let go of an area I really like in order to resolve the overall composition. Because the chair was so big and right in the center, which is what I wanted, that vacant area where the seat should be became very problematic. While I didn't want to be super realistic,
I did want it to still read as a chair.

This painting was kind of a struggle, but having the photos of the progress was very helpful in deciding where I had been and where I could go next. I have also experienced painting something where I wish I hadn't made the decisions that I did. That painting was more promising before I made a particular color or design change, which I saw because of the photos.
But it is all a learning experience and growth doesn't happen without experimentation.
---
What is Mixed Media Art Anyway?
2/12/2023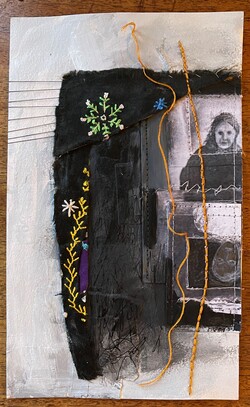 "Forgotten Family"
mixed media collage on paper 2022
Here is a definition of "mixed media art" that I found online:
"Mixed media art
refers to a visual art form that combines a variety of media in a single artwork. For example, if you draw with ink, then paint over it with watercolors, then add some highlights in colored pencil - that's mixed media!"
When I read that I feel like I've been given Cart Blache to do or use anything I want
in the artwork! So much freedom to play, experiment and create!
The above small artwork is on paper using acrylic paint, vintage fabric, a photocopy of a family portrait with hand and machine stitching.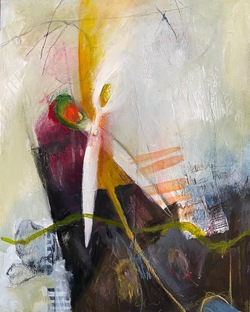 "Rock Paper Scissors"
mixed media acrylic painting on board 2023
In constrast to the collage piece above this mixed media work is primarily acrylic paint with collage elements, some of which got buried in the many layers of paint (a topic for another newsletter post!). It also incoroprates drawing done with pencil and colored pencil.
The drawing elements that you can see in this painting are akin to the stitching elements in the collage work. They add a sense of freedom and expression that are an inportant part of my process.
Often when using mixed media some elements get buried and are no longer visible.
They are still there but become the history or soul of the artwork.
You can see more mixed media collage work
here.
And some mixed media paintings
here
.
So that's the February Newsletter. I don't want to overstay my welcome, so to speak, so look for another edtion of The Newsletter in March where I will show how I document the layers of paint and collage in my work.
Until then mix it up!
Have a comment or a question?
Contact me!
Clare
---
My Exhibit at John Strauss is closing soon!
2/2/2023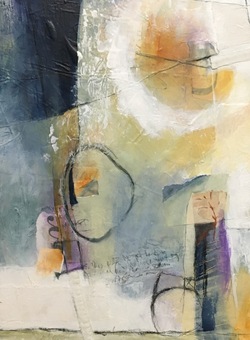 Winter continues, but my exhibit at John Strauss Gallery in Canton is coming to a close! There is just one week left!
Join me at a closing reception this Friday February 3 during
Canton's First Friday Event.
I will be there from 6-9 PM.

236 Walnut Ave.NE
Canton OH 44702

Five dollars will get you a chance to win the artwork pictured in this post!
"Still Life with Vase"
The money will be donated to the Stark County Hunger Task Force.

So come on by before the show closes on February 10, 2023!

Thanks to those who have purchased work.
I enjoy knowing my work has a good home with you.

Until the next Newsletter post,
Best,
Clare